4 Degrees
"Christian" terrorist, Anders
Behring Breivik
There has been a
horrific terrorist spree
in Norway. In the past 24 hours a bombing and a mass murder shooting on an island. So far the teen death toll at the camp is over 90, the bombing may have killed an accomplice. This is thought to be the work of Christian terrorists.
The decidedly evil work of Breivik's hands was commented on by one of his victims, Prime Minister Jens Stoltenberg. Stoltenberg's office was in the blast radius.
Anders Behring Breivik was arrested and charged with the bombing and the mass shooting. According to The Atlantic, Breivik was
"a conservative, right-wing Christian" with views that concentrated on "lowering taxes and a much stricter policy on immigration."
In the center, (second degree) Ban Ki Moon, Secretary General of the UN with
(third degree) Jens Stoltenberg, Prime Minister of Norway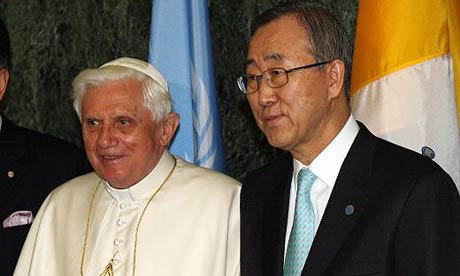 (first degree) Pope Benedict and Ban Ki Moon
Hmmm, when I last read about a radical conservative Christian, he was being lambasted for telling us we'll go to hell if we don't care for the poor, we should support the infirmed, give birth to children even if they have genetic abnormailities, and be more compassionate with our immigration.
Archbishop Chaput giving communion to a little
boy.
He is Charles Chaput, the soon-to-be archbishop of Philadelphia.
So which one of these men is the actual Christian? The murderer for lower taxes and sealed borders? The monk who's a stickler for life and compassion and who took a vow of poverty?
I'll let you make up your mind. Until then, I'll be praying with my friend Chaput for the victims in Norway. May God make their memory eternal and may the good people of Norway bring the compassion of Christ to the survivors.